FGM Lieutenant General
FGM MEMBER
Joined

Nov 5, 2009
Messages

12,348
Reaction score

8,251
Age

56
Location
Playtesting proceeding well... adjustments being made, stuff added... stuff being taken away to keep things (hopefully) simple. Working pretty well methinks.
Below a snapshot of latest playtest in progress ... TURN 9 and the after a shaky start, the Arab invasions are now in full swing -- Alexandria fell to the Arabs last turn (causing a serious loss to Byzantine treasury income... and the Arabs are now able to build fleets) and Damascus fell this turn.
The Byzantine army in the north just defeated the Bulgar army which has successfully captured most of Greek provinces and at one point stood nearly at the gates of Constantinople itself.
The Sassanid Empire is in its second battle for its main capital Ctesiphon -- if that falls, the Empire comes apart, with Armenia in the north and the Dabuyids in the northwest splitting away and a small rump Sassanid territory based on Persepolis remains to fight on.
Also, once Ctesiphon falls, the Arabs get a third army (historically a lot of the Sassanid soldiery joined the Arab armies)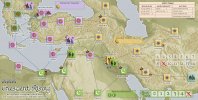 Using die rolls for battle results in these tests, but might play out the Ctesiphon battle vs AI in FOG2 just for fun -- or anyone volunteer as an opponent to play either Sassanids or Arabs?