FGM Lieutenant General
FGM MEMBER
Joined

Nov 5, 2009
Messages

12,348
Reaction score

8,251
Age

56
Location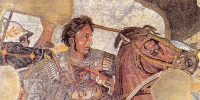 Looking for an opponent to join me on an extended tour of the Field of Glory 2 battlefields across the ages. (using all the Ancients DLC's and including the Wolves at the Gates DLC -- got Medieval pretty much covered in my current Campaign... and Crusades campaign loosely in works for future DLC)
We keep one ongoing casual battle ticking along and see how it goes ... turn or two a day minimum I'd say.
All nation and map selections POT LUCK (date and geographical sorting will be ON, so that we don't get complete anachronistic mismatches) -- everything covered from ancient Egyptians chariots through to Roman cohorts and marauding Vikings -- and we'll get to use some obscure, lesser known forces along the way, guaranteed.
Unit purchase as per normal.
We can have restarts if the battle map is unplayable by mutual consent -- the idea is to have fun.
(mirror battles also an option... but a little less keen on that)
We can keep tabs of battle results and share screenshots of the ongoing battlefield mayhem as we go along.
Who's keen?
Last edited: